The Last Crate You Will Ever Buy

6 Sizes
300, 400, 450, 500, 600, 700
Dog Damage
2 Year Dog Damage Protection Warranty
Safe For Escape Artists
The airholes are smaller to help prevent your dog from hurting their teeth
The High Anxiety Impact Dog Crate is specifically designed for dogs who suffer from high anxiety and escape their crate. The crate is welded and riveted together for maximum strength and is designed to help prevent your dog hurting themselve if they try to escape.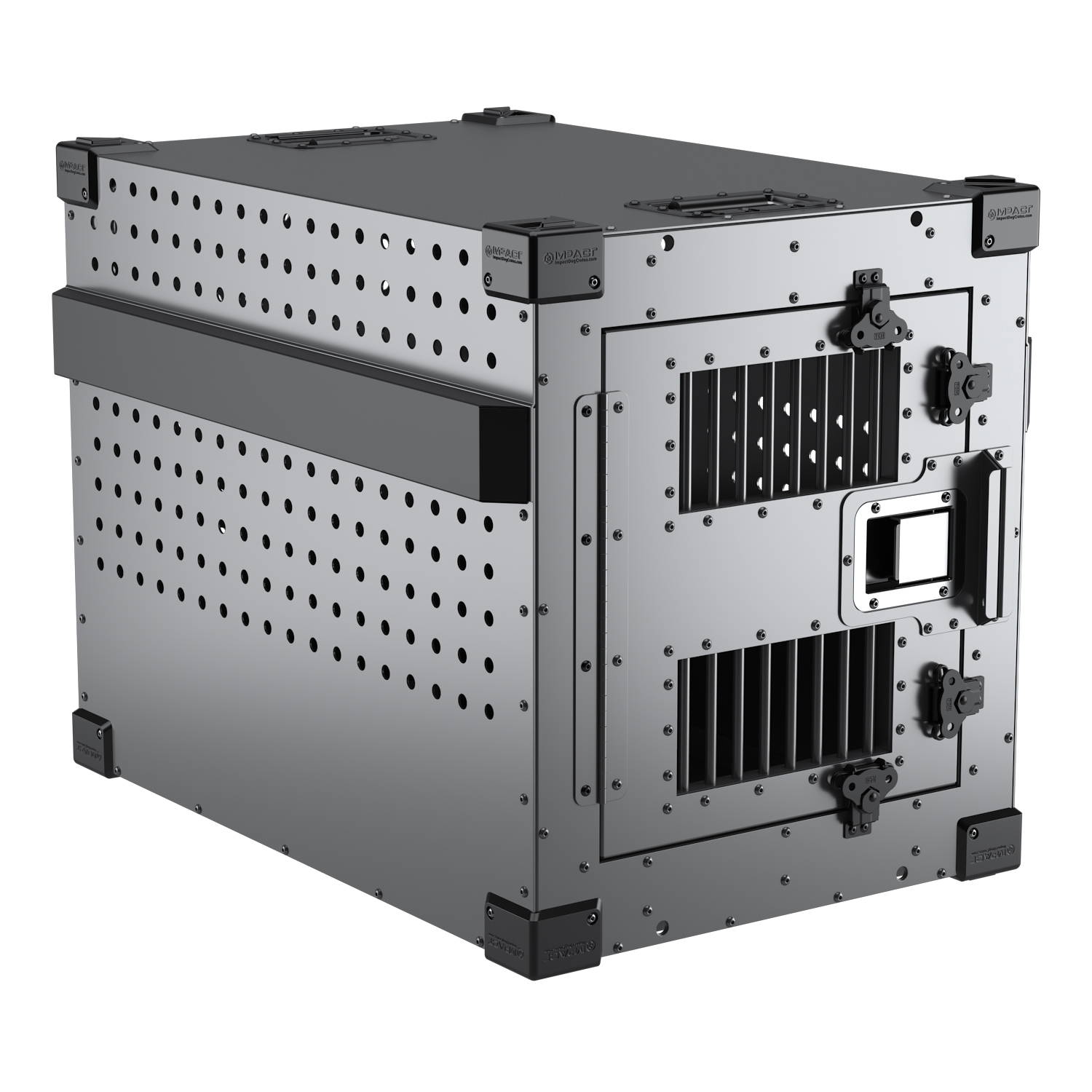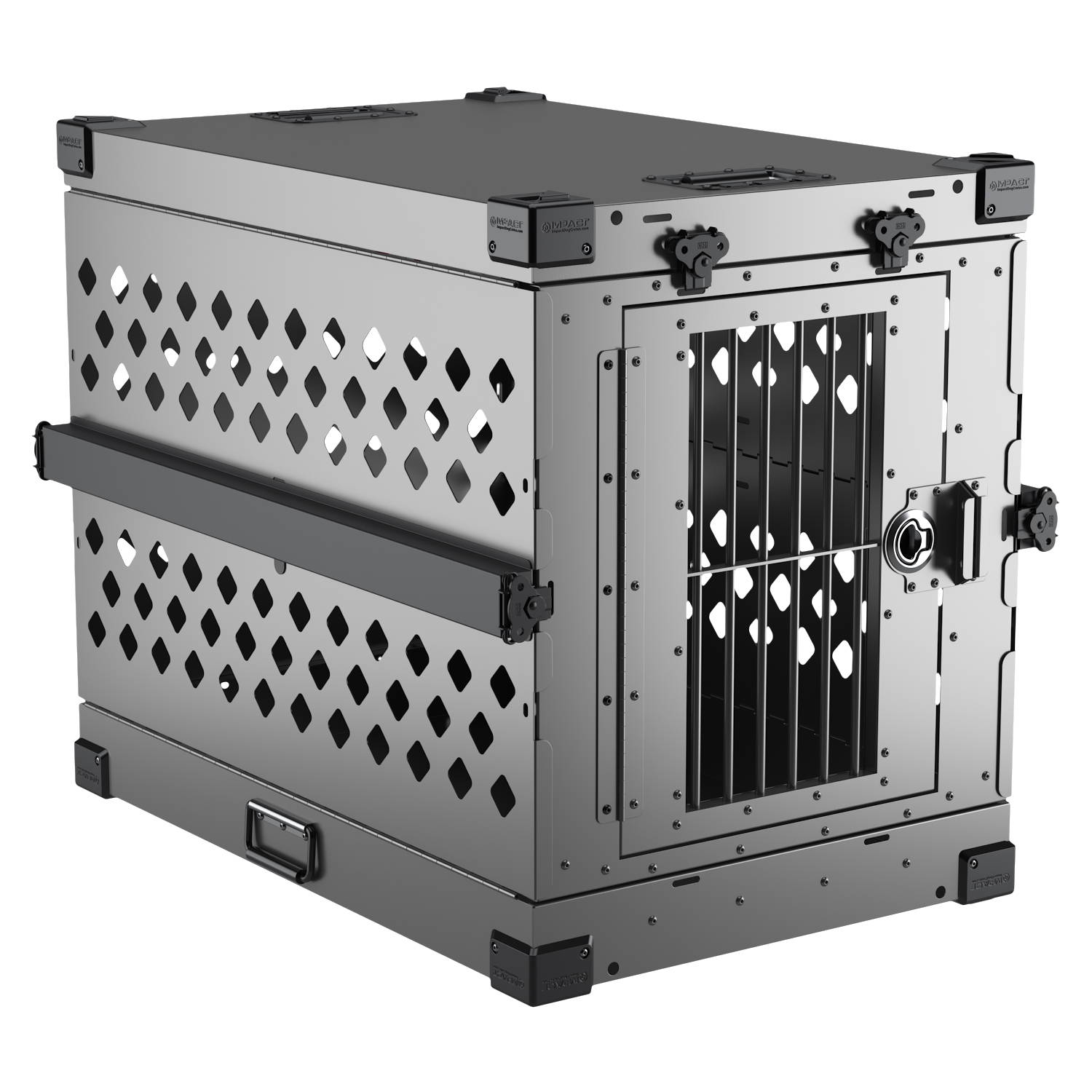 6 Sizes
200, 300, 400, 450, 500, 700
Light
Lighter then most plastic and wire crates
Collapses
The collapsible crate collapses into a carrying case less than 8 inches high
The Collapsible Impact Dog Crate is perfect for anyone on the go or looking to save on space. With the ability to collapse or uncollapse your crate under a minute, this means that you are ready for anything.
4 Sizes
300, 400, 450, 600
For SUV's
Perfect for the trunk of any SUV
Slam Latch
Stainless steel slam latch
The Stationary Side Door Impact Dog Crate will be exactly what you're looking for in the back of your SUV. This crate is designed to be light and nimble but still extremely strong in case of the event of an accident.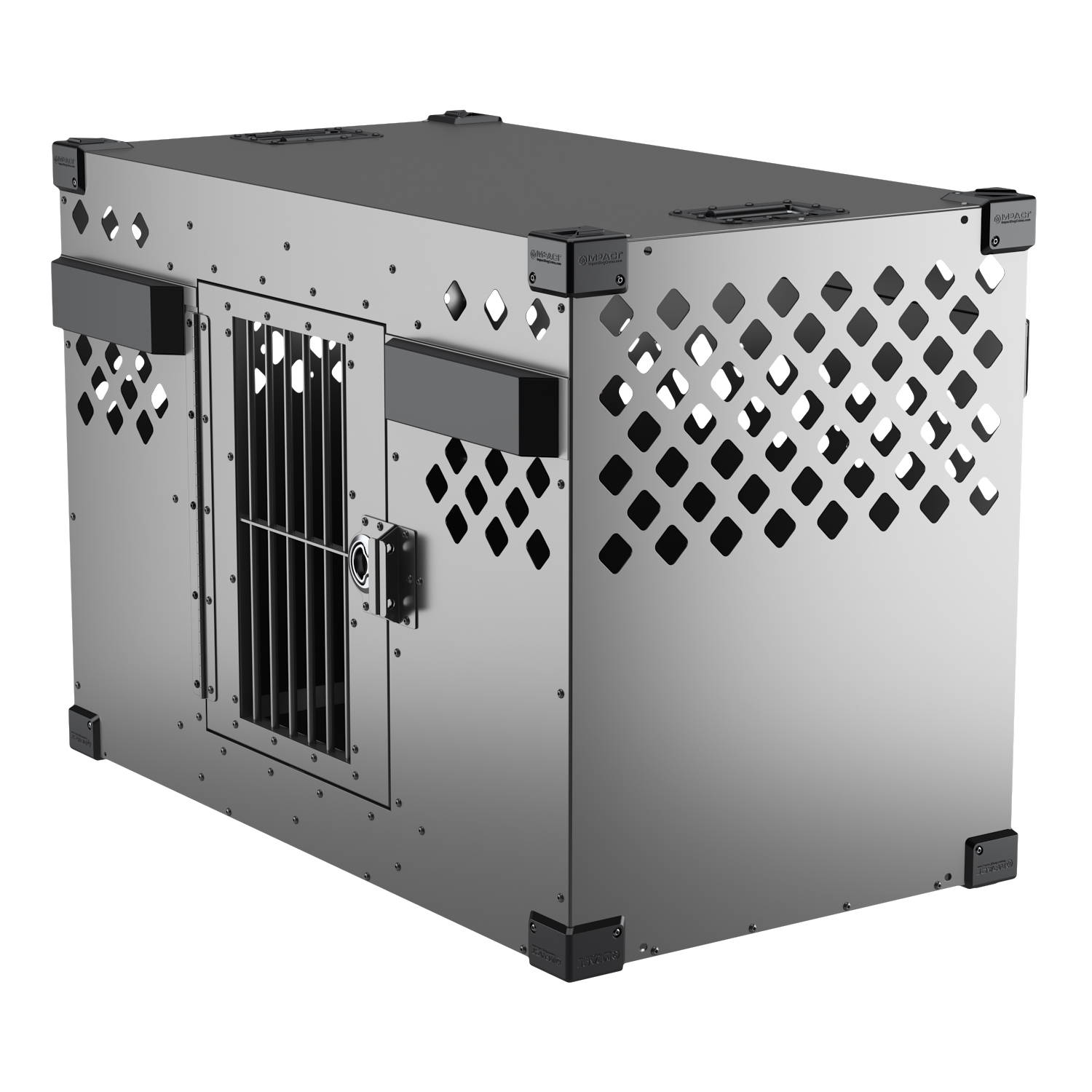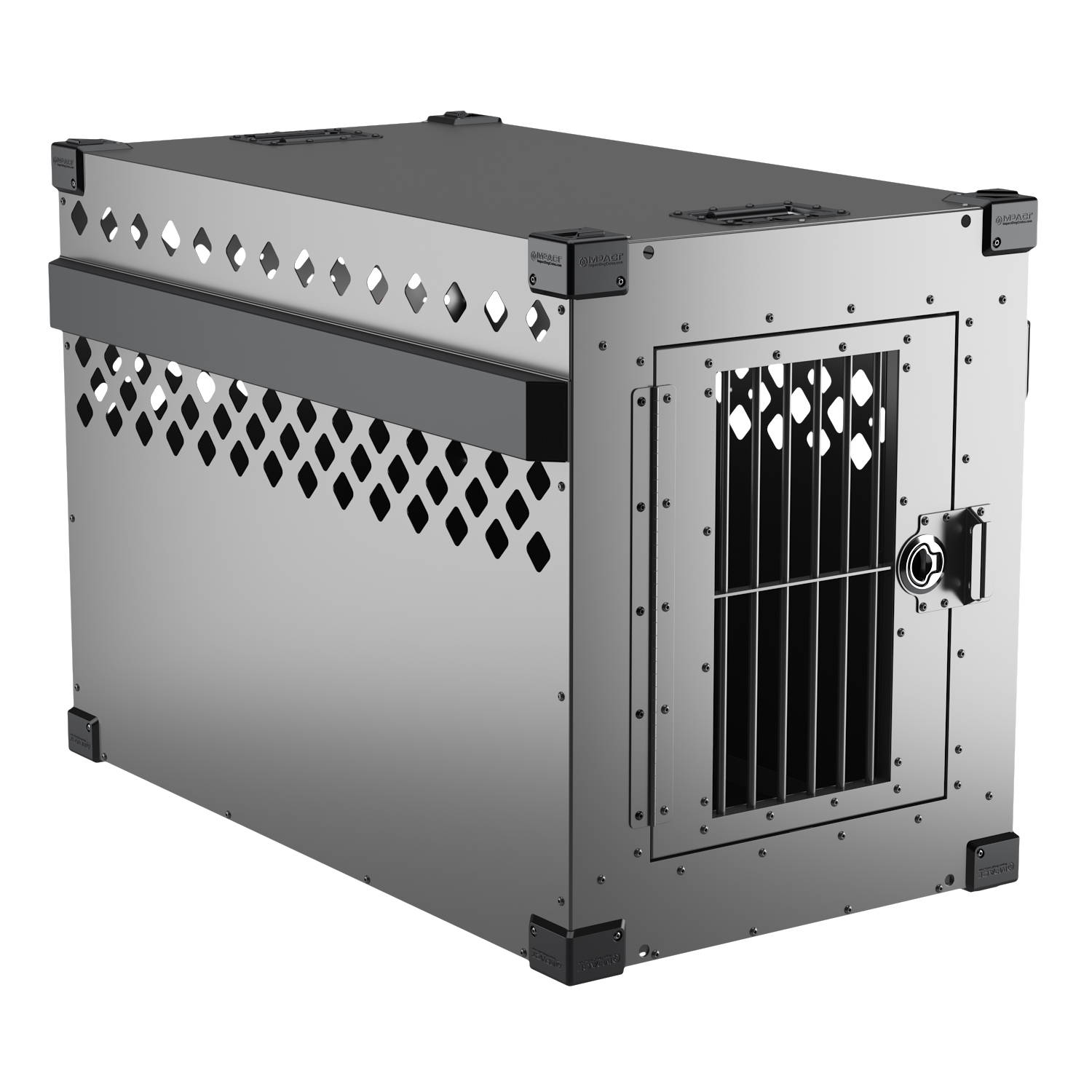 9 Sizes
100, 200, 250, 300, 400, 450, 500, 600, 700
Light
Lighter then most plastic and wire crates
Slam Latch
Stainless steel slam latch
The Stationary Impact Dog Crate is the crate for anything. From flying, car travel, working dogs, to showing dogs this crate does what ever you need it to.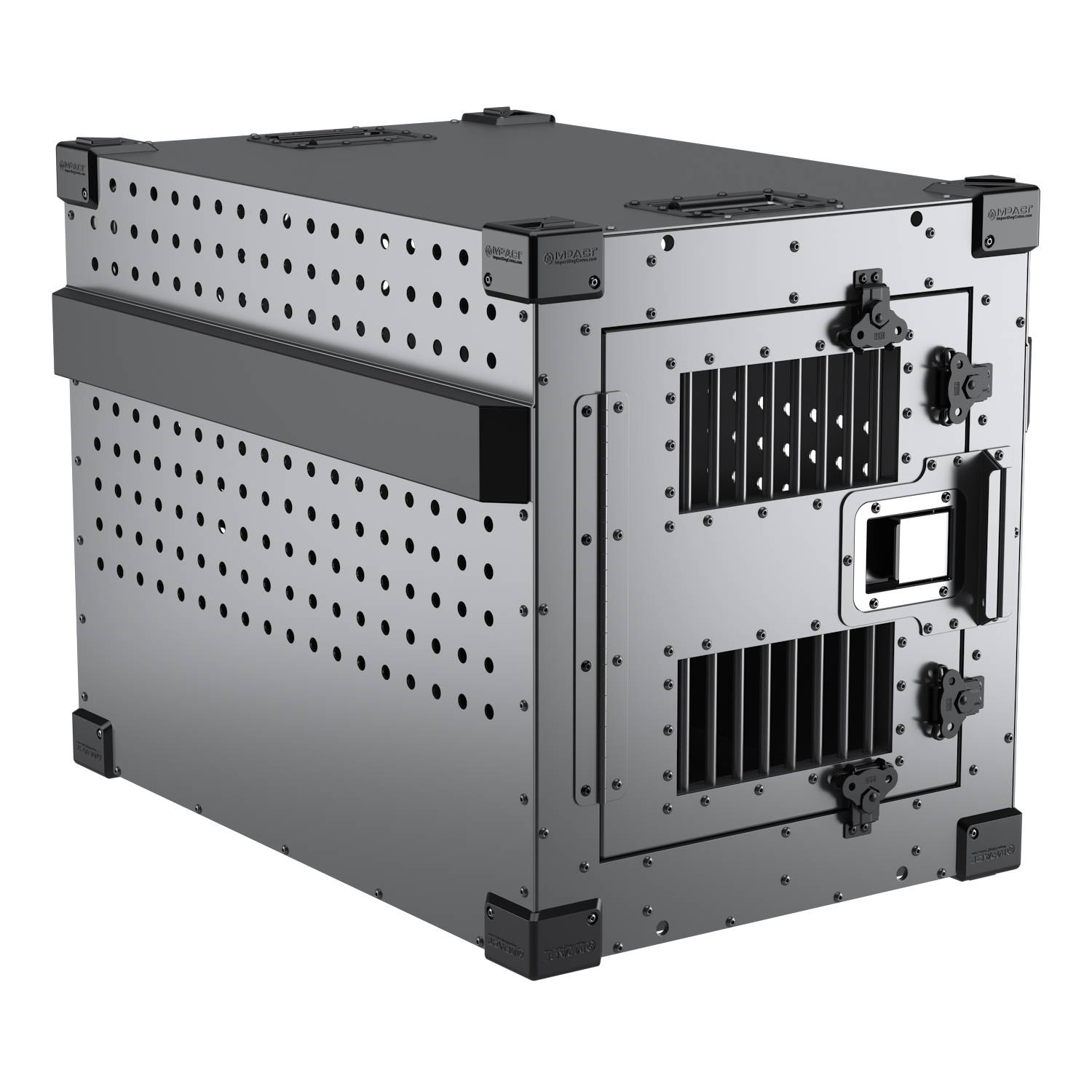 GREAT PRODUCT
We adopted the most expensive free dog that should have been named Houdini. Not only could she open sliding glass doors and climb fences but she totally destroyed the standard plastic crates. Other than the severe separation anxiety she suffers from she is the perfect dog. This was our last option to be able to keep her. I wish we would have made the purchase in the beginning. This crate is perfect. She is a 2 year old German Shepherd and the 450 has plenty of room. We leave the door open when we are home and she goes in on her own. Excellent product. I never thought we would spend this much money on a crate but it has made our lives so much easier because we do not have to worry about what we will find when we get home.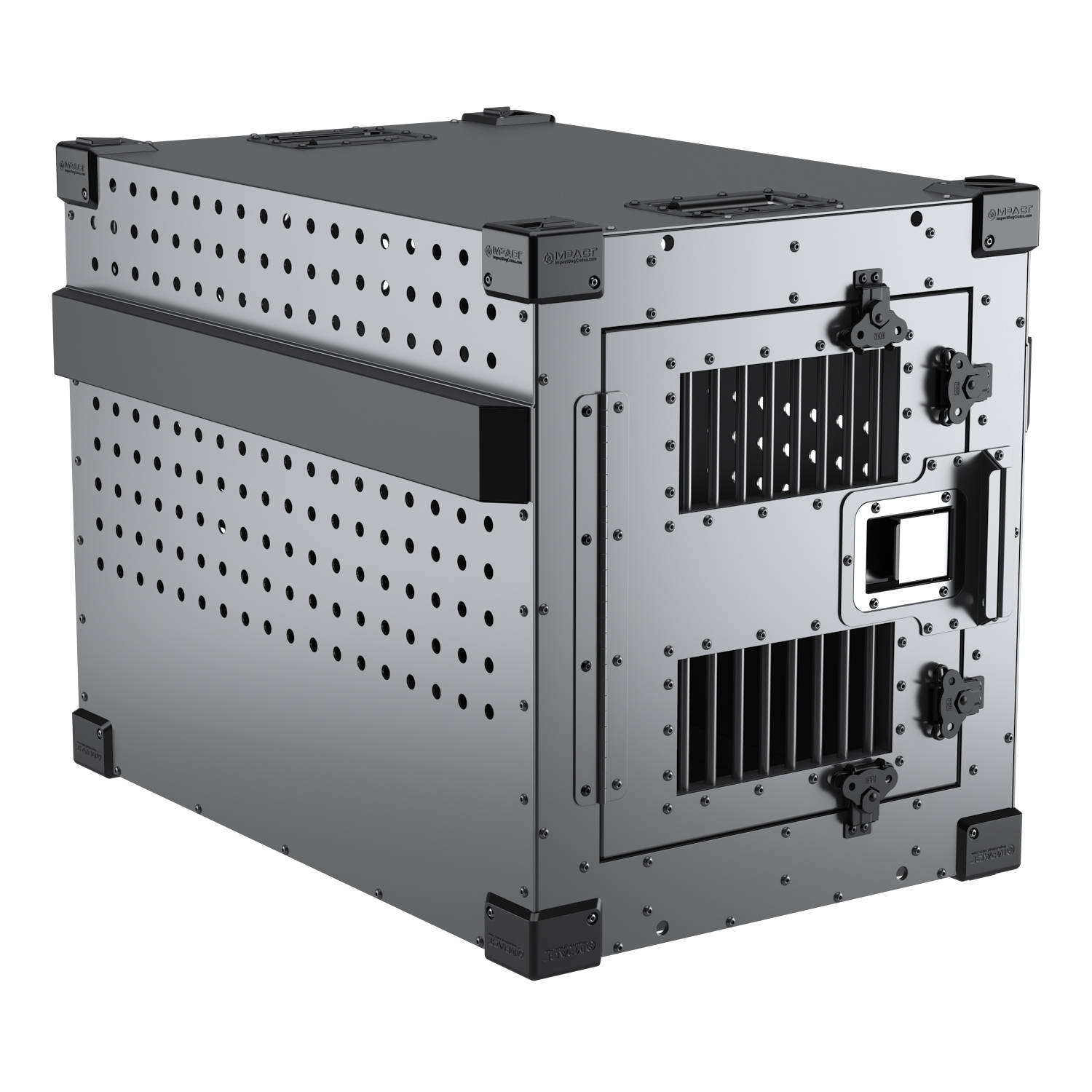 WORTH EVERY PENNY
This crate was our last attempt at keeping our GS/Husky mix safe when we are away from home. In the past, he has managed to chew through a $300 plastic crate and break the welds and nearly kill himself in a wire crate. We can't leave him unattended while we are away and his inability to find solace in his crate was exhausting to us. We've had this crate for over a week now and haven't had any issues. Unlike previous crates, he puts up no resistance when entering the crate and doesn't get anxious to be let out when he sees that we are home. He's considerably calmer and we get to feel better knowing he's safe when we're away. While it wasn't in the price range we were wanting, we quickly realized the vet bill to treat the bodily damage he was going to do to himself would be just as much. Well worth the investment.
LOVE MY COLLAPSIBLE CRATES
Have two collapsible crates and found them safe, secure and easy to use. One I used for international travel and the shippers said it was perfect and easy for them to move and place my precious dog. The other I use for shows and love it as the dogs are safe and they can move around easily. Add the trolley and you will find it perfect to move in and around with.
WONDERFUL INVESTMENT
When I received the crates, I was extremely pleased with the quality and colors, I got green and blue collapsible both. They look fantastic, strong and easy to handle. They're a little bit heavy. Just to give an idea, I'm short, but I'm able to bring them to the trunk of my 4 Runner, so anyone can maneuver this beautiful product. They are so easy to put them up, and same thing to collapse it. It takes probably less than 5 minutes, no effort at all. Best of all, they are secured, comfortable and easy to wipe. I think that is the best investment I have made for my dogs they are German Shepherd and They love to cuddle in their crate, just add a pad for comfort. One more thing, Impact Dog Crates have a great customer service, I have a wonderful experience. there was a misunderstanding and they get in contact within minutes, and solved my problem.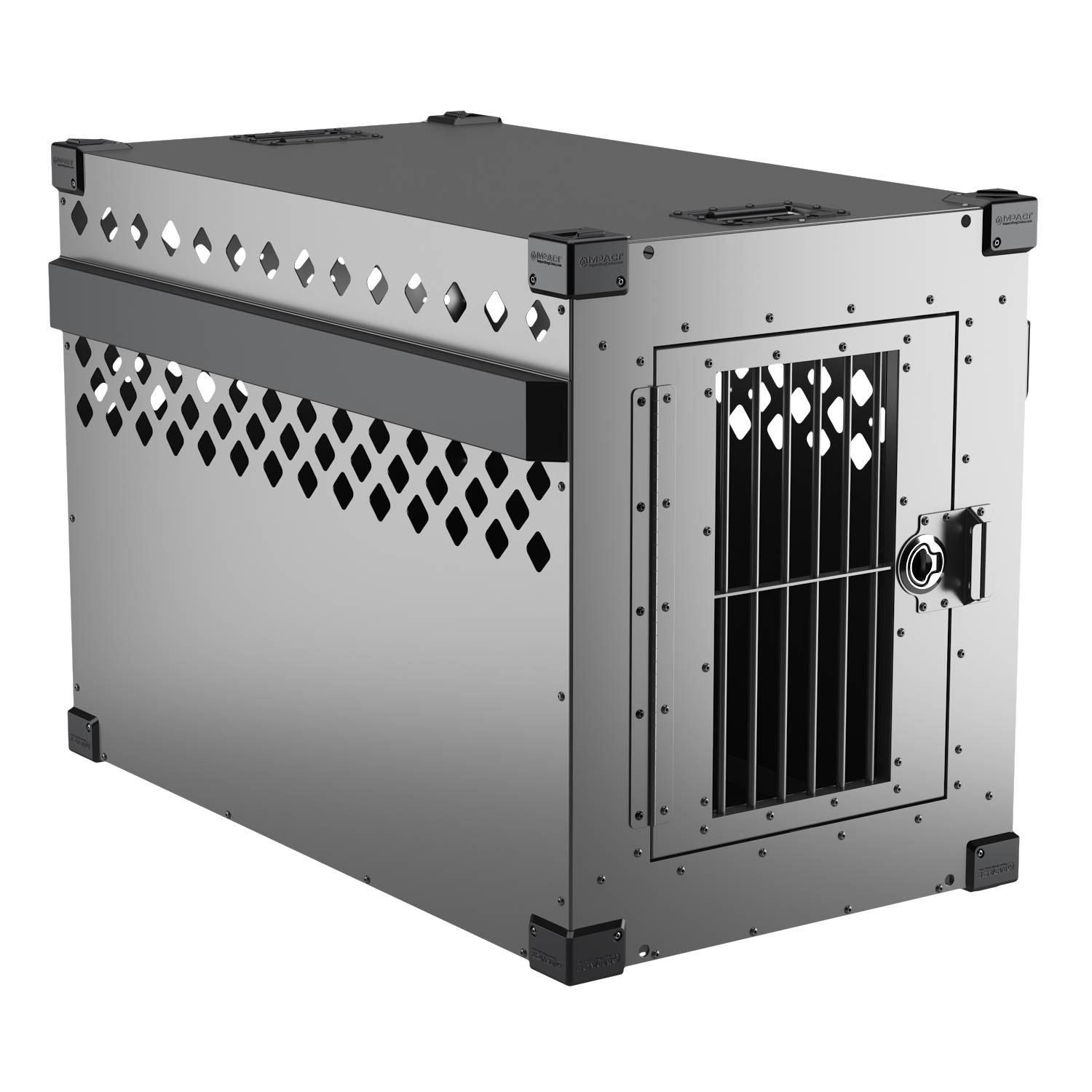 BEST CRATE EVER!
My Impact crate was worth every penny. I use it every single day in my car. There is nothing better than knowing if I get into an accident my dogs will be protected. Its light enough to move by myself and fantastic for dog shows and events. I will never buy anything but an Impact crate.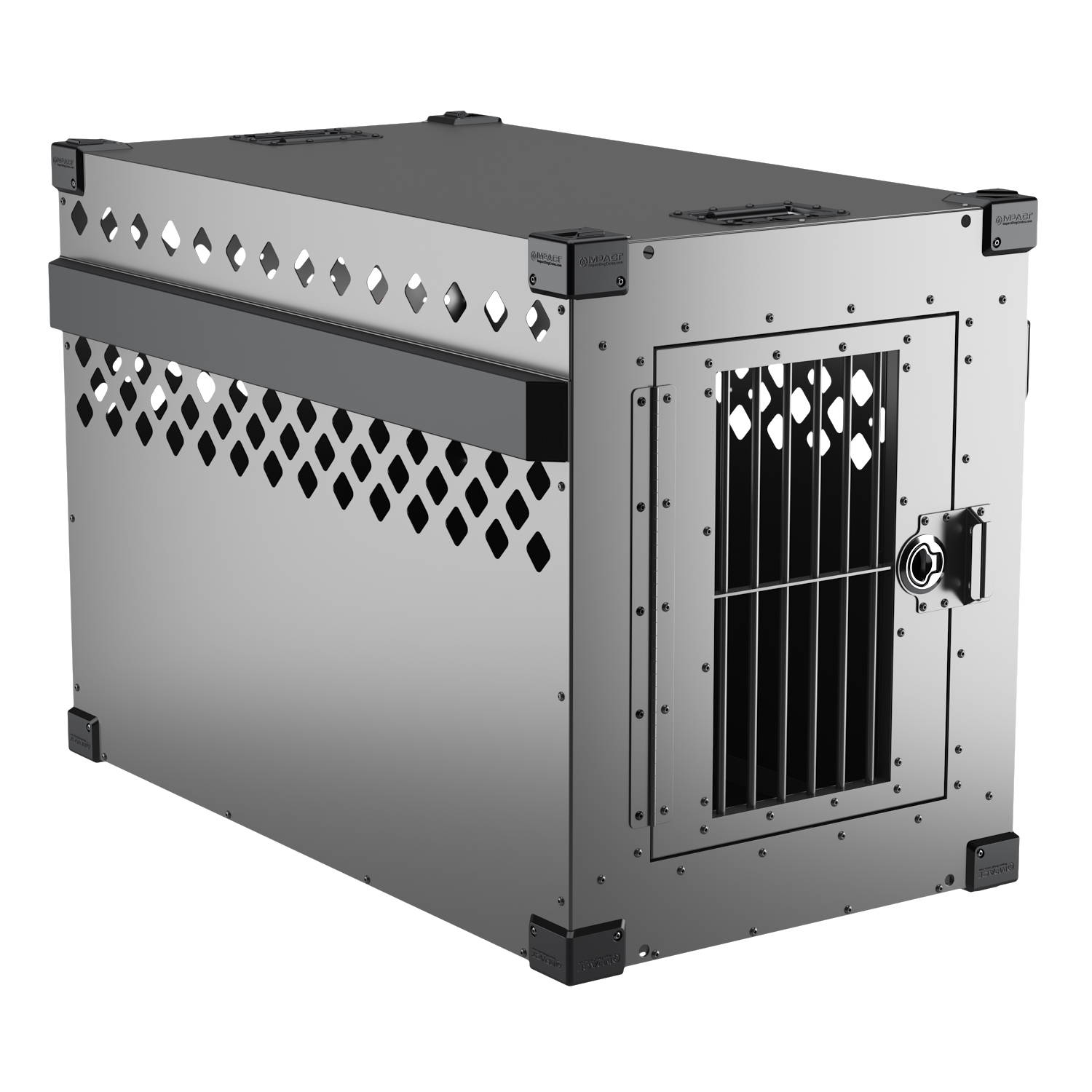 600 CRATE
This crate is the 4th I have received and put together and was the most simple. I can not tell you how much my dogs enjoy the crates which are the house crates, they also have the truck crates which go in the travel trailer as well. This one I put together on my own, did not follow directions but looked at the video on here and modified to fit my needs. Of course the dogs helped each one getting in and out while working on the crate. It stacks well on the other and with the use of a horse mounting step they are in and out daily. the pad fits perfectly. The staff here are wonderful, they give you answers and if parts are needed them shipped promptly. I will in time order another for the pup so she can join the rest as she already goes to the impact vs the wire crate. I highly recommend these if you have intact males and females, or if you travel for the safety of the dog, mine prefer the crate to the harness/seatbelt.
Get the offers in your inbox
Stay up to date with sales, giveaways, product announcements and much more