Flying Internationally With Your Dogs
How I successfully traveled with my dogs on a 10-hour International flight.
I recently traveled from Vancouver International Airport to JFK International Airport in New York with my two dogs and cat for an extended vacation visiting family in Rhode Island. The dogs flew in cargo and my cat was is a soft crate in the cabin with me as my carry on. The total flight travel time, including the layover was about 10 hours. I wanted to share our travel experience and some tips for traveling with your dogs!
Jasper, my Australian Shepherd, has separation anxiety in new places and I was worried flying him because he's broken out of crates before in a panic. I didn't want him to be stressed the entire flight or hurt himself trying to get out of the crate. The main reason I decided to try flying him was because I found out you can fly two dogs from the same household in one crate! (I flew with WestJet, I'm not familiar with other airlines.) Camilla, my miniature schnauzer, acted as Jasper's emotional support in cargo.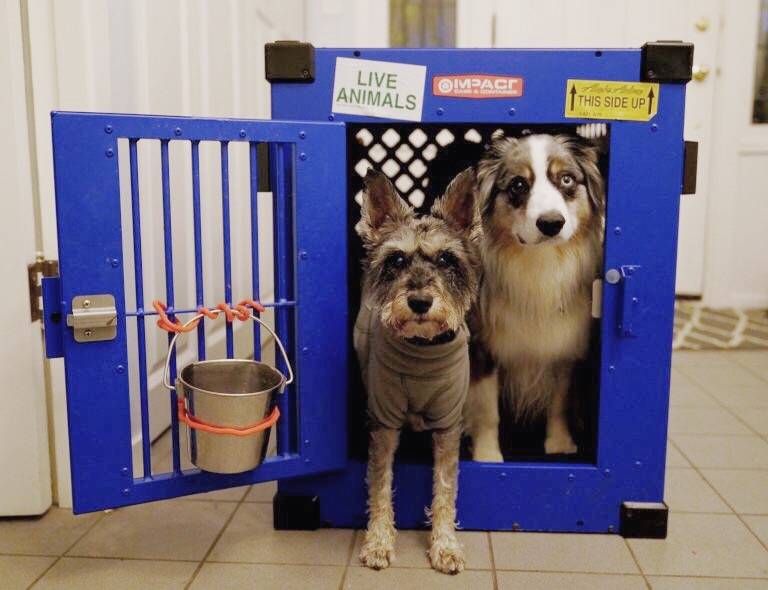 1. BOOKING YOUR FLIGHT
When booking your flight, make sure you call the airline to ensure there is room for your pets on the flight. All airlines have a restriction on the number of animals allowed per flight. For me, there wasn't a direct flight available. But I did make sure both flights were with WestJet, not one of their partner airlines. I originally wanted to fly into Boston Logan International Airport but WestJet uses a partner airline for all their flights out of Boston. To book my flight to Boston I would have had to call the partner airline and check their pet availability separately. I also would have had to pay a second time to add the animals to my flight with the partner airline. Luckily, I had the option to fly into another nearby airport.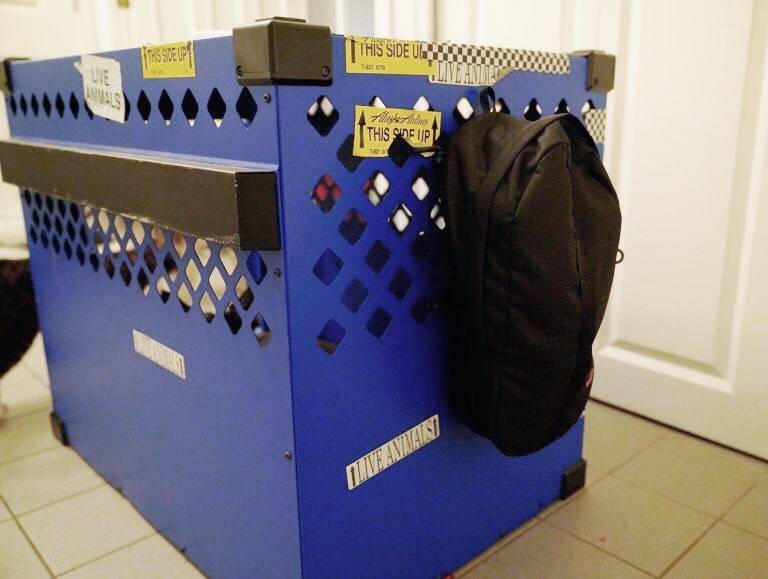 2. CRATE/ KENNEL
Once I booked my flight, I started looking for a crate that would be big enough for both dogs. Make sure you check the airline restrictions for the maximum crate dimensions allowed. WestJet does have size restrictions and the maximum weight of the crate with your pet inside is 45 kg or 100 pounds. I borrowed a friend's Stationary Impact Dog Crate, size 400 which is huge and only weights 15.8kg or 35 pounds.   Most importantly, I knew Jasper wasn't going to be able to escape out of the aluminum crate.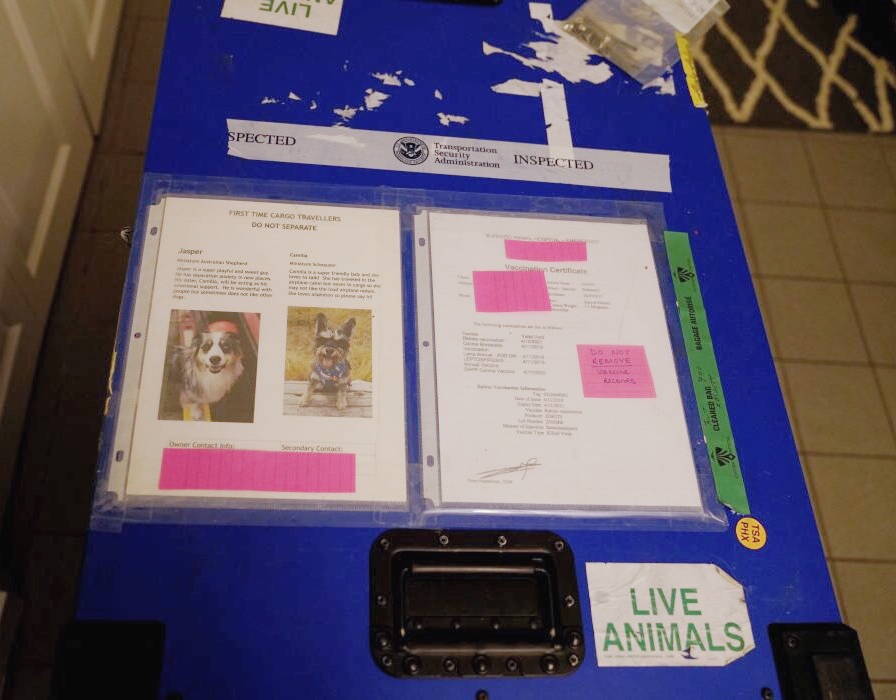 3. CRATE ACCESSORIES
Paperwork: On top of the crate I taped a laminated piece of paper that had a photo of both dogs with a little personality bio for each of them and my contact information. I also taped a clear folder with copies of their vaccine records.
Water bowl: The friend I borrowed the crate from already had a water bowl attached to the crate door with rubber twist ties to keep the bowl from rattling. I actually froze the water bowl overnight before the flight so that the water would thaw during the flight and prevent spillage.
Crate pad: I bought a dog bed to put inside the crate to help absorb vibrations during the flight.
Small bag: You're allowed to attach a small bag to the back of the crate for the flight. I used a small cargo bag from MEC and attached it with the same rubber twist ties. Inside the bag I put the dogs' harnesses, leashes and collars. I didn't want them to wear anything inside the crate for safety reasons. However, since the cargo area isn't as warm as inside the plane cabin, I did have Camilla wear her Ruffwear fleece jacket. Also inside the bag, I put Jasper's muzzle, treats, and a can of wet food.
Labels: All of the required "live animal" stickers are provided by the airline.
4. FLIGHT PREP
Crate Games: I picked up the Impact crate a week before our flight and spent the week playing crate games and giving the dogs lots of treats for going in the new crate.
Hemp Oil: To help with Jasper's anxiety, I used Awpathecary's bacon flavored hemp oil. The week leading up to the flight, I gave all the animals hemp oil. Apawthecary hemp oil is made with beneficial MCT oil (derived from coconut oil) and helps to reduce stress.
Exercise: Exercising the dogs before the flight was a huge priority for me! My dogs are so much calmer when they've gotten a lot of exercise. I took the dogs to a local doggy pool the night before for a swim and even took them for a 3am bike ride before our 6am flight.
Crate Entertainment: Inside the crate for the flight, I froze their Mega Dog raw food in a Kong like food toy from Ruffwear. (If you didn't want to use raw food, you could also freeze canned wet food or peanut butter!) I also gave them each a bully stick to keep them busy throughout the flight. *I know Camilla and Jasper chew their bully sticks properly and wouldn't choke on them. They are also both good at sharing food with each other. They wouldn't fight over the food in the crate. *
SO HOW DID IT GO?
I was seriously impressed with how well all the animals did on the long flight! When the flight attendant rolled the dogs away in the crate, they were both laying down, chewing their bully sticks. I can tell when Jasper is stressed because he'll act frantic. When I was reunited with the dogs, they were both excited to see me but weren't frantic/ panic level excited. The only thing I would do differently is have another two bully sticks to give the dogs after going through customs. Unlike with US customs, the Canadian immigration made me pick up the dogs on our layover and then recheck them in domestic check in. Had I known this, I would have had another chew to give them when they went back in the crate for the second flight. Luckily, I had treats in the crate bag and threw a handful of treats into the crate. I would definitely fly them again!  
Thank you kjackson for sharing your experience with us!

http://beachcomberdogs.com/index.php/2019/01/14/flying-internationally-with-your-dog/
---