traveling in a home on wheels with your dogs
WE ARE TRAVELING THROUGH EUROPE IN A CAMPER VAN- WITH OUR DOGS!
Guest post written by @mojoandfriends - Jordy & Marijke
Building a dog house in our tiny home...
Hi there! We're Jordy and Marijke. Not too long a go, we took the plunge and terminated our rent. Together with our dogs, we moved into our self-built campervan to explore the world together.
Over the course of eight months, we turned an old construction van into the little place that we now call home - our tiny home on wheels, that is. A little over a month ago already - time really does fly - we left the Netherlands and embarked upon our adventure. As we're writing this, we're exploring the Swedish national park Tyresta together with our dogs!
If you'd like to read more about our travels you can head over to our website
mojoandfriends.com
!
Besides travel, we also write about dogs, sustainable living, and share our favorite vegan recipes (don't worry, the dogs are fed a meat based diet)! Feel free to check it out!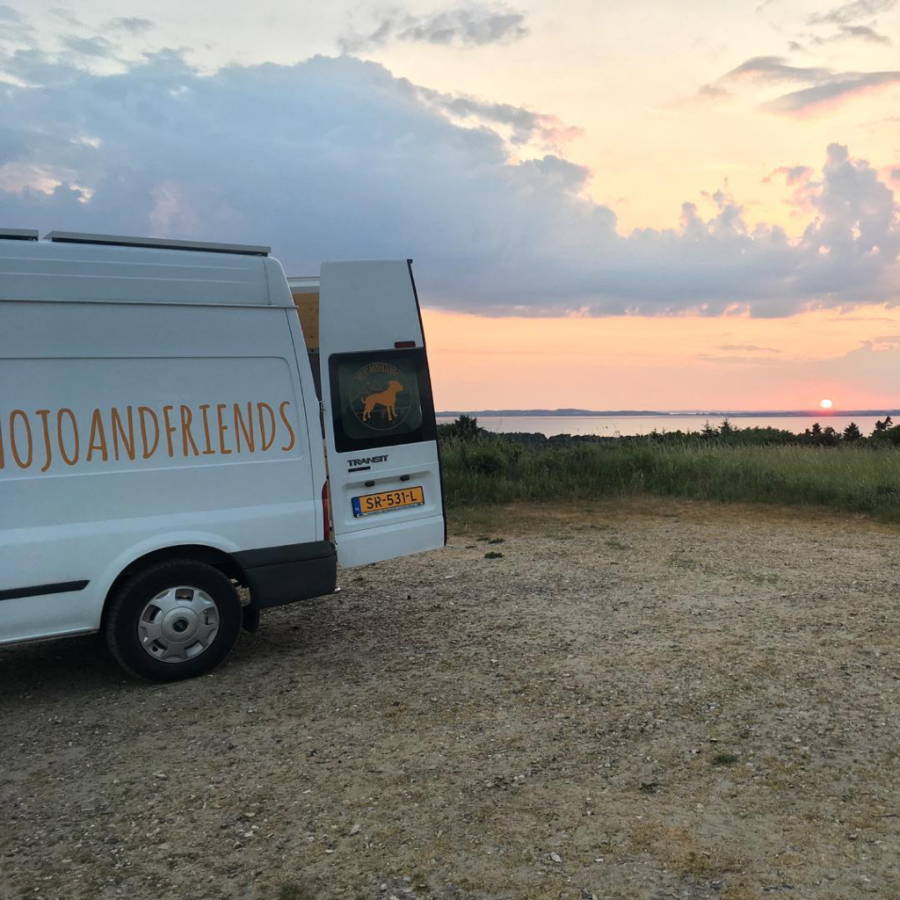 Why we chose to live in a campervan...
We both earned our master's degree last year, and decided that we'd love to explore the world rather than settle down and start a career. Most of you will probably agree, that if you don't chase your dreams immediately, you'll probably end up not going at all. If we had a nickel for every person who told us this when we explained our plans, we'd be rich!
We were tempted to simply pack two bags and leave the country. Owning dogs however complicates things. It's a good thing we don't have children! That'd be a whole different story.
After discussing what the best option would be, we decided upon traveling in an RV. In came the second issue. Motorhomes are expensive. So instead of buying one, we chose to find an old panel van and turn it into a tiny home on wheels.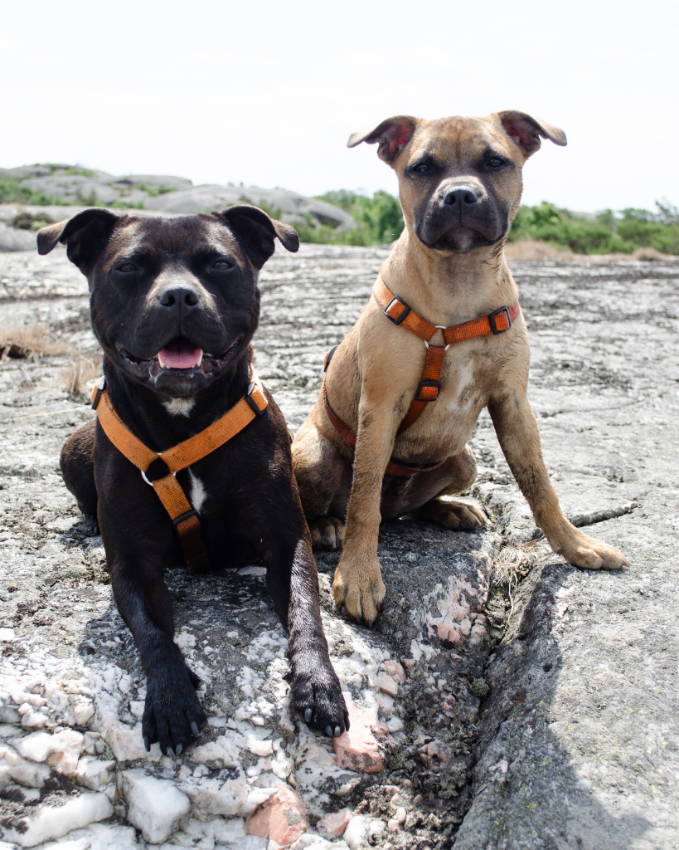 Meet Mojo and Venus...
So we share our little home with two dogs - let's introduce them!
Mojo is our first dog. She is 3.5 years old as of writing. During this time we have already explored several countries with her and she loved every part of it! When indoors, Mojo is always very calm and easy going. When we're outside however, she unleashes. She can luckily walk on lead quite well, but when we let her roam free she tends to go crazy. Some of her favorite things to do are playing fetch, swimming, and eating her raw food at dinner time.
Venus is the newest member to our family and is just 5 months old. Lucikly, she learned the art of outdoor potty-duty before we moved into our campervan! Venus is an extremely active puppy, except when there is a chance of getting cuddles! She can't get enough of people and would like to meet everyone we walk past.
Mojo and Venus are both Staffordshire bull terriers, compact and tenacious dogs. They're perfect for our lifestyle!
If you want, you can follow Mojo and Venus on their instagram account! www.instagram.com/mojoandvenus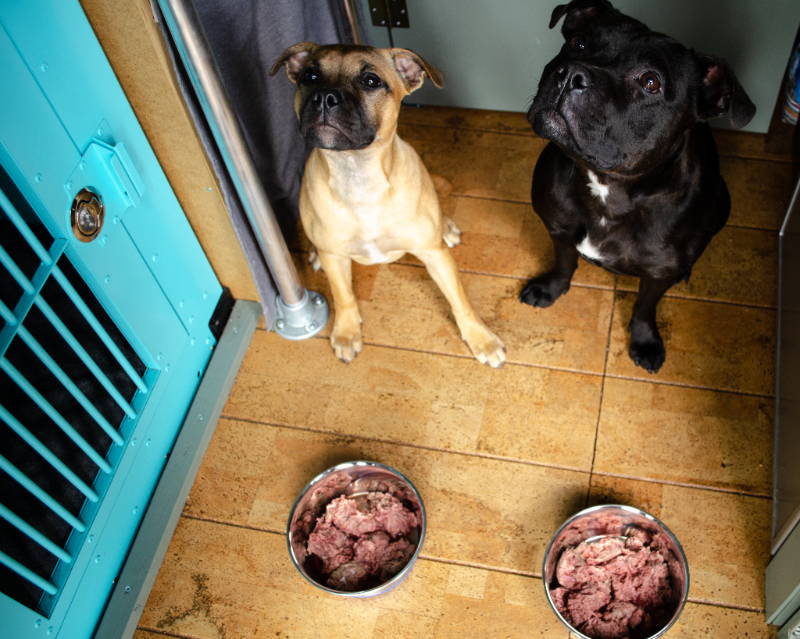 A spot for the dogs...
But after spending the day enjoying the outdoors, our pups need a comfy place to spend the night.
We'd previously seen numerous campervans that left a small open area under the bed or sofa. This would function as a spot for a dog bed. And actually, this would be a great safe-spacing solution for tiny homes that stay in a fixed position for longer periods of time.
Our home however, is always on the move. Pray to God we never get into and accident, but if we do, we want our dogs to be as safe as possible. That's why we decided to install a crate into our campervan.
Before we even bought a van, we had been searching for the perfect crate to incorporate. As the crate will take up a large part of our home, we preferred one that also looked appealing to us. As the saying goes, all roads lead to Impact Dog Crates. Well, that's at least where all of our searches ended up.
Impact Dog Crates kindly sponsored us with a crate of our choosing, and we couldn't be happier about it. We like a little color in our life, so we went with the teal-colored Stationary size 500 crate. This particular crate is massive, but perfect for Mojo and Venus as it leaves plenty room for both of them to stretch out completely.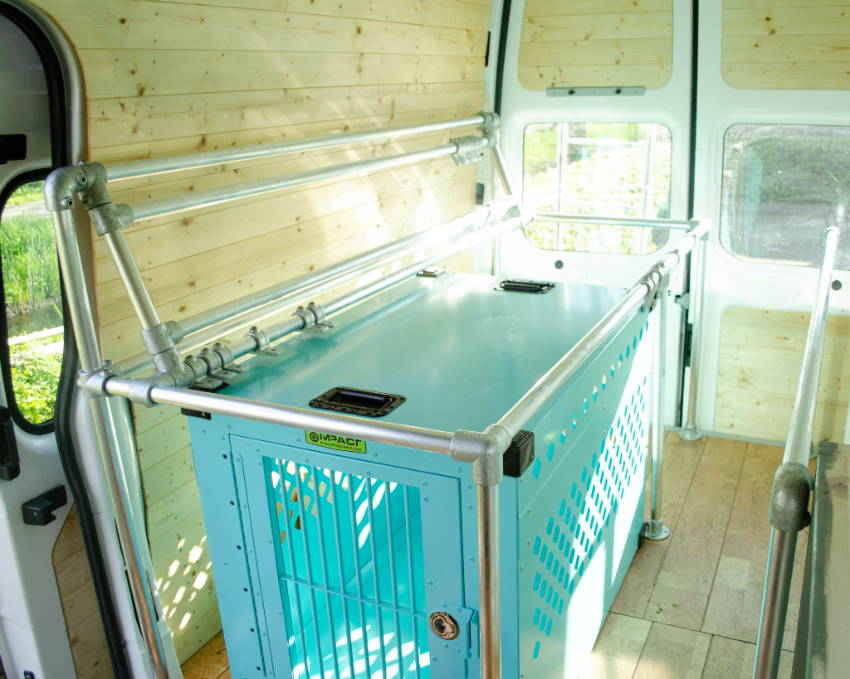 ---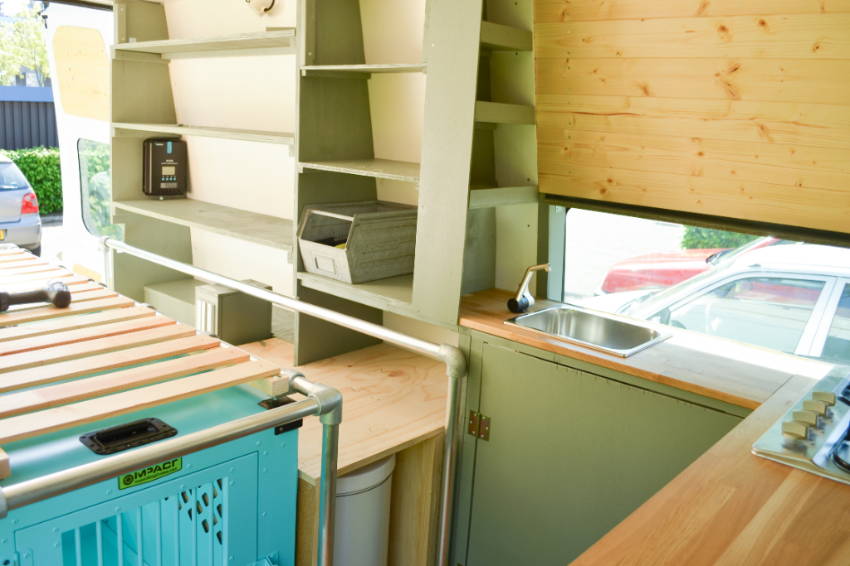 Fitting in the crate...
Incorporating a dog crate of this size in our camper proved to be quite tricky!
Before we started our build, we had two massive items in mind that were must-haves for our tiny home; the dog crate and a tiny wood burner.
At first we asked ourselves 'How are we going to fit a crate and a wood burner in our campervan?'. But instead of trying to fit them in, we chose a different route. We took the crate and wood burner as a given and designed the rest of our interior around them! We managed to fit both of them in just perfectly. Our mindset just had to shift.
Our van build started off slowly. We had to treat rust, insulate the entire cabin, build a wall to separate it from the front, add a floor, clad the walls, and panel the ceiling. Then finally, it was time to start working on the interior!
The only spot in which we could fit the dog crate was underneath our convertible sofa bed. Our campervan has a bed that runs lengthwise along the right side of the van. It can be converted into a sofa, and the seating area is located above the dog crate. This sofa is quite deep, because of the width of the dog crate, but it's still super comfortable!
Our dog crate is kept in place by the scaffolding tubes that form the frame of our sofa bed. An additional beam is bolted into the floor in front of the crate to prevent it from moving forward.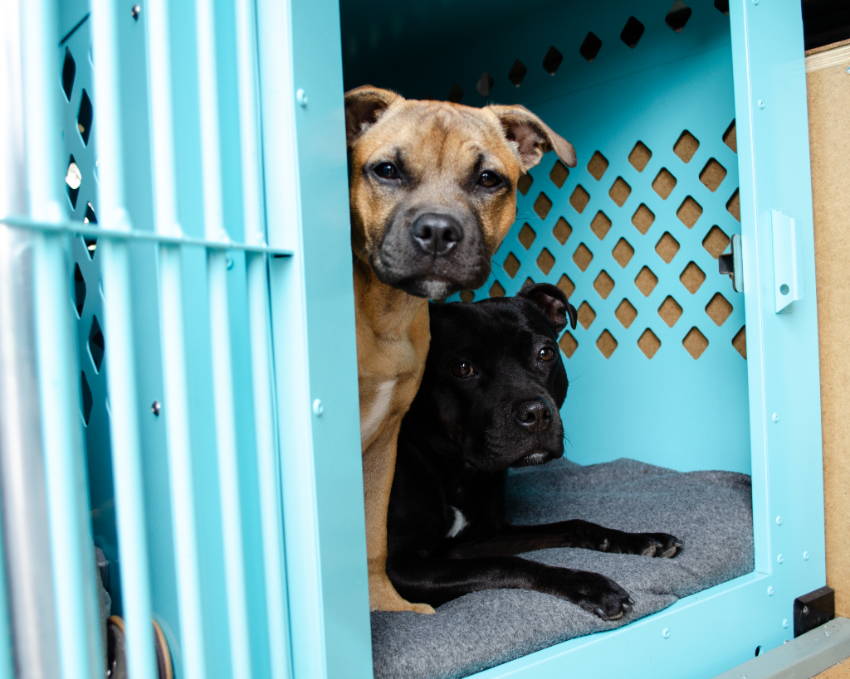 Our experience so far...
After traveling for a month, we still haven't found a downside to installing this bright blue crate into our tiny home on wheels. And it seems like our dogs love it, too! When we leave the door open, they often prefer to stay in their crate rather than join us on the sofa or lounge on the cork floor.
The crate door opens towards the side door of our campervan, meaning that Mojo and Venus can jump straight from their home into a forest!
During the first week of our journey, Venus actually had two accidents. Though the blankets that covered the dog bed were ruined, the crate walls were wiped down so easily. If we would have had a wire crate, our furniture would have been covered in brown speckles, excuse the detail!
Though I hated having to climb into the crate to clean it, it was at that point that I realized how great of a decision installing an Impact Dog Crate was.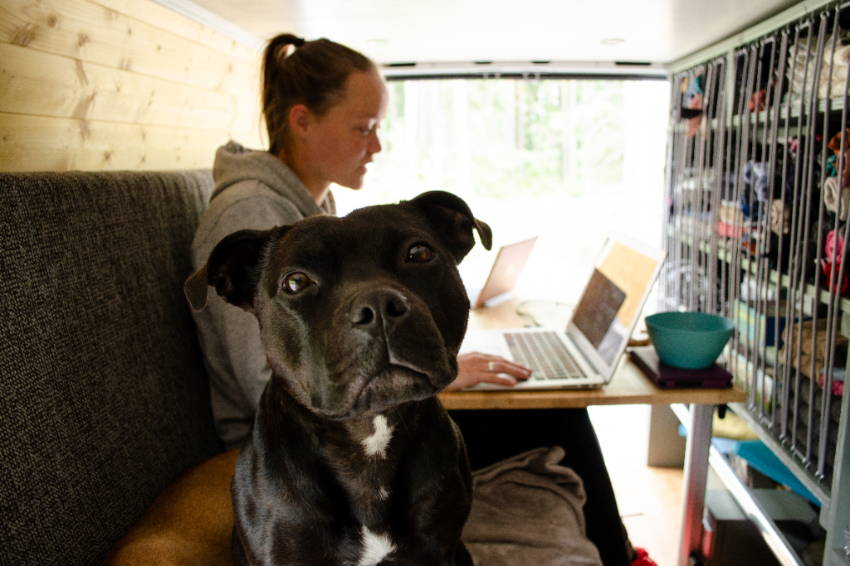 ---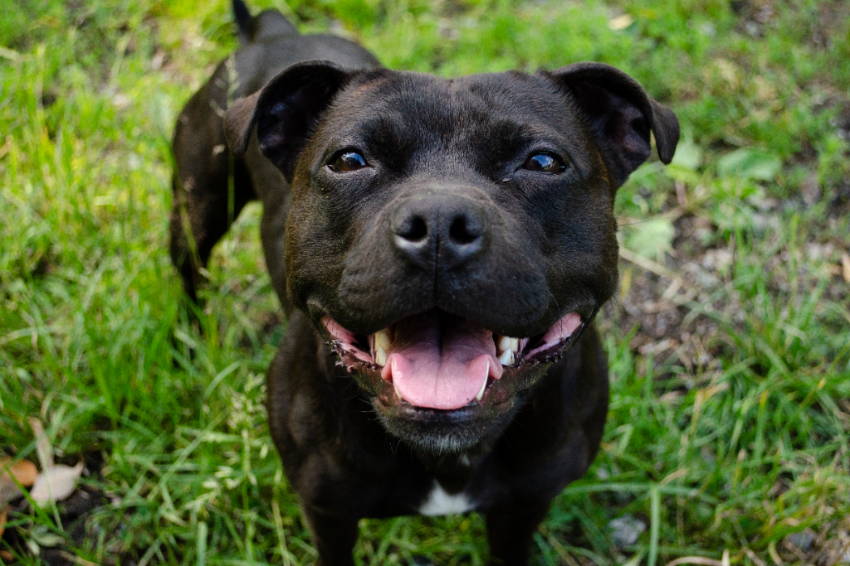 ---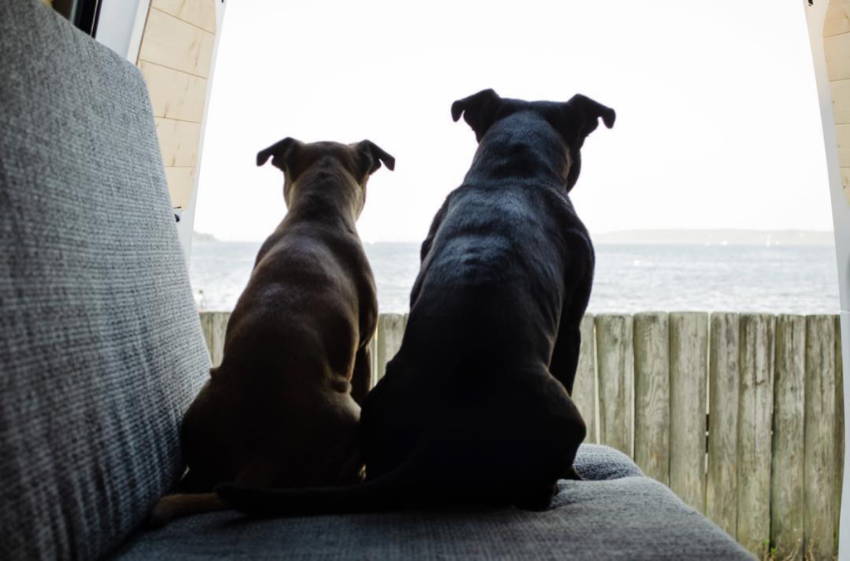 Follow @mojoandvenus as they travel around Europe in their family's self-built campervan and see the entire van build process, start to finish! Check them out on Instagram: @mojoandfriends
If you have a cool story to share, or a fun blog topic idea, send us an email! We'd love to hear your suggestions!
---